Internet connectivity, specifically high speed wireless Internet connectivity, is more and more ubiquitous in our world today. With that said, some consumer device manufacturers have been making their devices Internet compatible, allowing information to be shared among different complementary devices. This is no more apparent than in home entertainment where you can do any of the following:
Start a Netflix movie in your living room, stop watching it for whatever reason, and then resume it on your smartphone while you're in a waiting room for an important appointment
Create a playlist at home and then listen to that playlist in your car
Oh, and if an unexpected heat wave hits your city, Nest allows you to control the temperature of your home from anywhere. Wouldn't a nice cool house at a fraction of the cost be nice when you got home this evening?
Are you beginning to see a common thread? Most, if not all, devices that are Internet aware utilize the smartphone as the main hub to retrieve and to consume this type of information. Health-related monitoring devices are no different. Now more than ever, people are understanding how their smartphone can provide benefits to their health with instant access to information and user-friendly tracking tools.
Below are some examples of connected devices that are empowering users to manage their own health/wellness.
Withings was one of the first to market with a Wi-Fi-enabled scale. Not only does it track your weight, but it can also track up to 3 other people's weights as well. It also calculates fat percentages and BMI. The beauty of this scale is that it does all the heavy lifting for you. You set it up, step on it, and it records everything you need. The data are then stored on the Withings site and can be retrieved from your smartphone for easy tracking at any time. I've personally used this, and I love the historical data that can be reviewed. Withings also has a number of other product offerings that follow a similar pattern: a blood pressure monitor, a baby monitor, and a soon-to-be-released smart baby scale.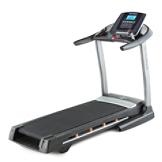 Compatible with some of your higher-end treadmills, the iFit technology allows you to customize your cardio routines and execute them at any treadmill. Historic information can be retrieved on any iFit compatible machine, your computer, or any smartphone, allowing you to track fitness-related routines from anywhere at any time.
Nike+ Fuel Band tracks any physical activity through a bracelet that contains a sophisticated 3-axis accelerometer. Your every move is then translated into a Nike point system called NikeFuel, which then, over time, acts as a gauge as to how active you are. The more active, the more NikeFuel points you earn. Currently, the data are only retrievable using an iPhone but has gained a lot of popularity with the hipsters and very active Nike brand lovers.
This, personally, is one of my most favorite devices. It's a sports watch that not only connects to the Nike+ running pod but is also compatible to a Polar Heart Rate Monitor and has a TomTom GPS. The amount of data tracked on this little device is amazing. Having all this technology in a watch allows you to see stats in a comprehensive easy-to-see interface. Since I've purchased mine, they now convert your running activity into NikeFuel points.
Touted as the first cellular-enabled Blood Glucose Meter, this device instantly transmits glucose readings to the patient's private online database, which can be accessed by the patient or, with permission, by a physician, caregiver, or family member. Data collected can be accessed via the Web or an iPhone device and can be interrogated to find trends as well as detect potential problems.